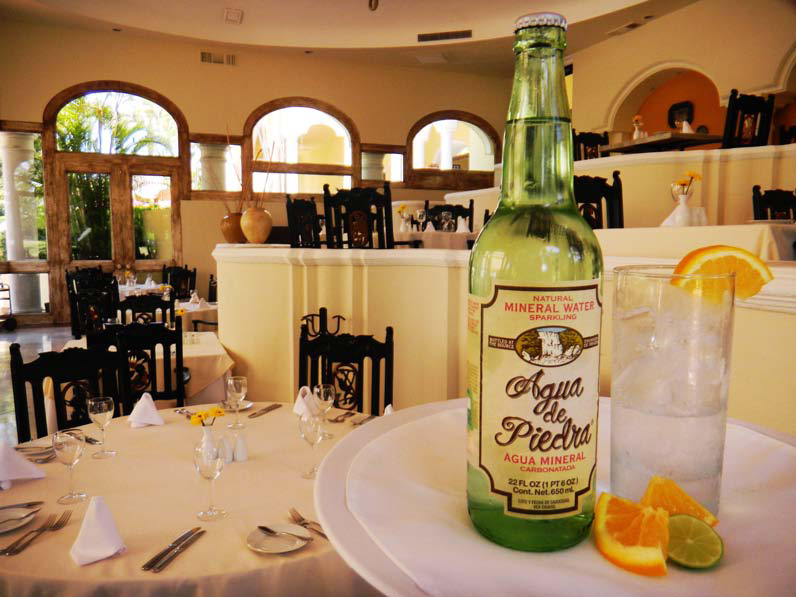 Casa Velas has always been known for innovate and provide exclusive services to its guests. At Emiliano gourmet restaurant, apart from enjoying a mouth-watering variety of delicious Mexican specialties, you will find a special brand of mineral sparkling water that has revolutionized dining in Mexico in recent times: Agua de Piedra.
Natural spring water Agua de Piedra owes its unique flavor to the mineral profile provided by filtration through the geological formations of the Huasteca Basin. This water basin is high in the Sierra Madre Mountains of Monterrey, Nuevo Leon in northeastern Mexico. This source was discovered more than 100 years ago and until now has remained largely untouched. The water temperature at the source is 21°C (70°F).
Agua de Piedra's packaging is also unique. When a glass bottle manufacturer changes production from one color to another, thousands of "transition" bottles are produced, representing the largest energy waste in the glass industry. Agua de Piedra makes use of these transition bottles in an effort to minimize its impact in the environment. For this reason you may notice slight variations in glass color, which we feel is a whimsical aspect of this environmentally conscious product.
Agua de Piedra: The finest Mexican sparkling water, only at Casa Velas.