Where to Eat in Puerto Vallarta ?
–
In 2010 the cuisine of Mexico cuisine was recognized as part of the heritage of humanity by UNESCO, due to the variety of dishes, versatility of recipes and range of ingredients grown only in Mexico.
–
Puerto Vallarta is an example of the rich cuisine found throughout the country; it is a place where you can sample dishes for all tastes. Here is a list of places of where to eat in Puerto Vallarta  every kind of food in this beautiful port.
–
1- Seafood                          
Fish and shellfish are Puerto Vallarta specialties, and although they are offered in many restaurants there's no better way to enjoy them than right next to the ocean. Most beaches have small establishments serving them in the region's traditional style. Plus, the prices tend to be very reasonable.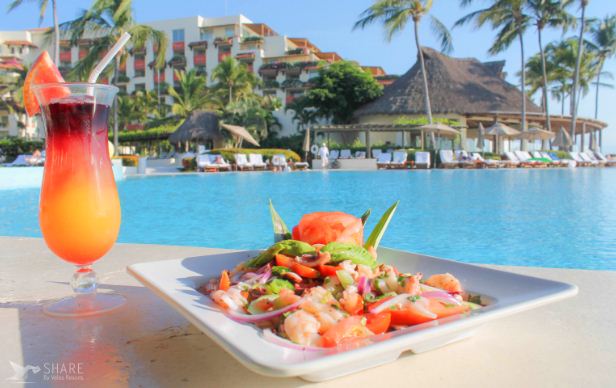 –
2-Mexican Food
The best place to enjoy Mexican food is at the Rio Cuale market, where you'll find all kinds of specialties to try. Get to know new dishes and take advantage of being in the market to shop for crafts and souvenirs made by the locals.
–
3-International Food
If it's international food you're looking for, don't worry, it's available here too. In the Marina Vallarta you'll find a grand variety of world cuisines including Italian, Argentinean, Mexican, Brazilian and Japanese; almost any style you might be craving is here.
–
4-Fast Food
If you want quick food like hamburgers or pizza the largest variety will be in the city's malls or commercial centers. Try going to Galerias, Plaza Caracol or Plaza Peninsula; all three are easy to access from the city center.
–
5-Vallartan Specialties
The Malecón is the perfect place to find local-style snacks and meals while enjoying a spectacular sunset. Here vendors sell tuba (one of the region's traditional beverages), skewers of grilled shrimp and fish, tostadas of ceviche, octopus, shrimp and fish, and many other things.
–
Now you know where to enjoy every kind of food. Whichever you choose, you'll have a great time- Puerto Vallarta is made for this! You'll always find a good place to go, helping to make your vacation amazing.
¿Buscas la versión en español?