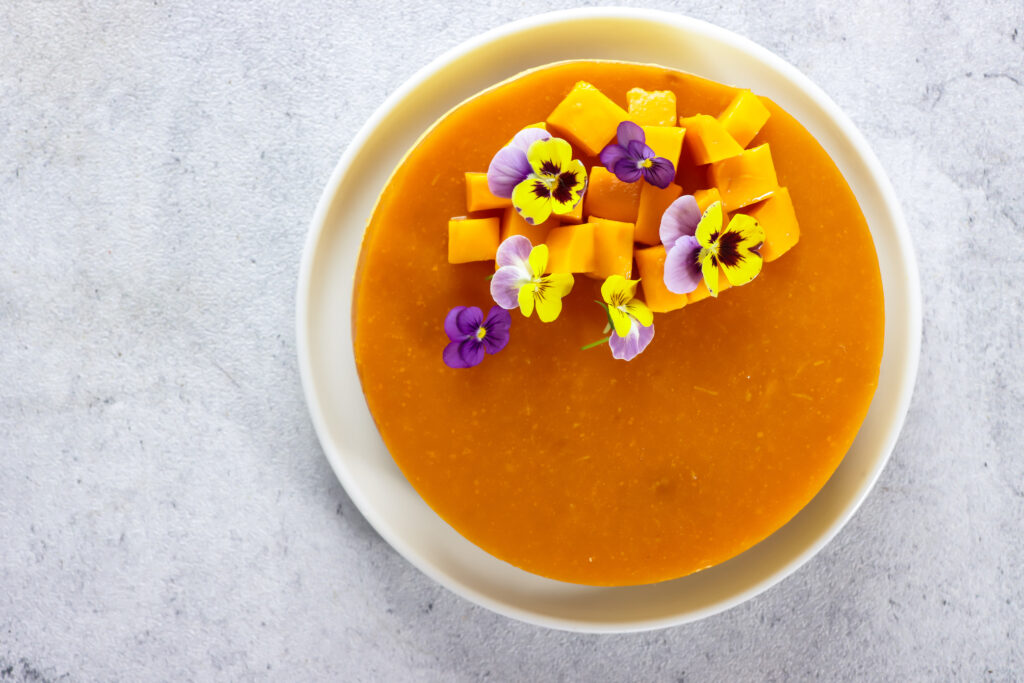 Sometimes, decorating a dish with edible flowers is really common, but the truth is that a long time ago different countries included this element in their traditional cuisine. For example, in Mexico, the indigenous communities used any kind of edible flowers to decorate, add color or aroma, and prepare some typical Mexican drinks.
The use of edible flowers is an art because the careful selection of this ingredient is important to highlight some characteristics on the plate. Some of them are aromatics —like the herbs to grow indoors, for example, the lavender, which is perfect for teas, but some petals add a sweet taste like the carnation flower, spicy like arugula flower, or the bitterness of daisy flowers.
There is no doubt, the possibility to add fantastic flavors with a flower is almost infinity, but it is important to tell you that, to consume a flower, it must have special treatment so that it is free of pesticides or chemicals that can alter its natural characteristics. Now, we want to share with you a peculiar list of the most popular and exotic ones.
Squash blossom
It is an ingredient that appears in many Italian and Mexican recipes. On the European side, it is more common to find them in fresh salads with citrus vinaigrette or fried accompanied by some cheese. In the case of Mexico, it is very popular to find quesadillas or soup with this flower, since its light and sweet flavor complements salty dishes.
Hibiscus flower
Although it is native to Africa, it is a very common flower in Mexico, since it has a bitter flavor that compliments well different drinks and dishes. The most popular way to consume it is the famous hibiscus water, but also we can find it in contemporary gastronomy such as vinaigrettes or jams. It is a healthy snack too, you just have to hydrate it to intensify the flavor, then dehydrate it, and add lime juice and chili powder.
Plumeria flower
This tropical flower grows on a native Mexican plant, but we can also find it from Ecuador and Peru to Brazil. Especially in the Mayan era, it was used as a natural remedy to heal scars, but nowadays, as a tradition, it is added to drinks such as bupu to give the characteristic texture to its foam, or in some chocolates, since its bitterness balances any sweetness.
Bougainvillea
The bright color of this flower always catches our attention in any garden. Although it is usually used as an anti-inflammatory remedy for cold symptoms, contemporary cuisine has taken it to extract its beautiful color and transform it into delicious sauces that accompany well some meats; fresh in some salads to give it a peculiar sweetness; and even smoothies.
Izote flower
Growing from the yucca plant, it is a white flower with amazing characteristics. It is popular in some indigenous communities in Mexico and is common for its bitter flavor. Whether it is used as the main ingredient in some dishes, as a complement to desserts such as guayaizote (a typical dessert with guava and izote flower), or as an accompaniment to seafood.
Edible flowers for your next trip
The previous list was only a small sample of all the variety that exists, but did you know that you can try these flowers during your vacation in Mexico? SE Spa at Grand Velas Riviera Nayarit resort now offers frozen popsicles as an amenity, perfect for the spring season when flowers are at their best.
At this resort, you can enjoy frozen lemon popsicles with flowers such as chrysanthemums, pansies, and dahlias. Some benefits of these flowers are:
Chrysanthemums
They provide vitamins from groups A, B, C, and K, and minerals such as potassium, calcium, and sodium. These flowers are considered low in calories and fat; also, they contain a large number of antioxidants. One of their most common uses is making tea.
Pansies
These flowers have a large amount of mucilage, better known as the "slime" of the plant. This substance is rich in anti-inflammatory and emollient properties, as well as being an excellent diuretic and laxative.
Dahlias
These are perfect flowers to combat digestive problems due to inulin, a carbohydrate that serves as fuel for intestinal bacteria, which means it is a natural fiber. This plant also helps in the assimilation of certain minerals such as calcium and magnesium.
Now, tell us in the comments, which is your favorite edible flower?