Authentic Mexican Cuisine with Chef Claudio Hotter
We had the chance to catch up with Executive Chef Claudio Hotter of the ever-luxurious Grand Velas Riviera Nayarit.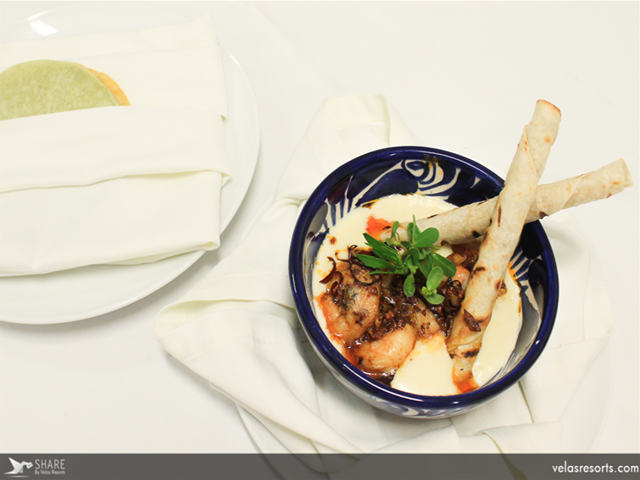 It was time to meet the talented man behind the delicious food and beverages at Grand Velas Riviera Nayarit! Chef Hotter is the one in charge of creating the amazing culinary experience that distinguishes the resort.
Because he is an Austrian in Mexico, I was particularly curious to understand his view of the cuisine; the new menu at AAA Four Diamond restaurant Frida was the perfect excuse.
What makes Frida different from other Mexican restaurants?
Four main points:
1) The environment
2) The variety of dishes from different regions of Mexico
3) The impeccable service
4) The nice live music by a guitarrist
Which ingredients define Frida?
Fresh corn, chicuacle chile, achiote and even grasshoppers.
Why did you decide to change Frida's menu?
Easy: Every 6 to 8 months we change the menus for our guests. Repeat guests are able to enjoy different dishes each time they visit us.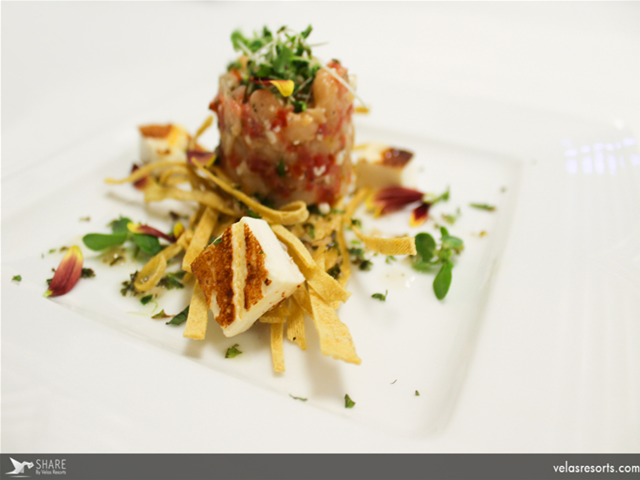 What inspired this menu?
It was inspired by our guests' comments and wishes, the latest culinary trends observed in the hospitality industry, the creativity of Frida's Chef José Manuel Martínez, and the desire to create very colorful presentations.
What is your favorite dish on this menu?
Tuna steak on a diamond of papaya served with a salad with mint and tamarind vinaigrette and tequila beans. Worth trying!
What are your recommendations for our readers the next time they visit Frida?
1) The Chef's Amenity: Our different dips with mildly spicy house tomato and tomatillo salsas, complemented by flavored tortillas: huitlacoche, corn and cilantro. These are the new appetizers on our menu "Experiencia en boca", along with special margarita flavors.
2) Taste different dishes and share them. Some great examples are bean salad, tuna crusted in chile de arbol and the spinach cream – a delight, tasting it is a must.
The range of entrées has more traditional and innovative components and they are powerful in flavor and taste.
3) To finish your experience in Frida, I recommend the amaranth cake and goat cheese, or the chocolate mousses with chayote –they are equally delicious.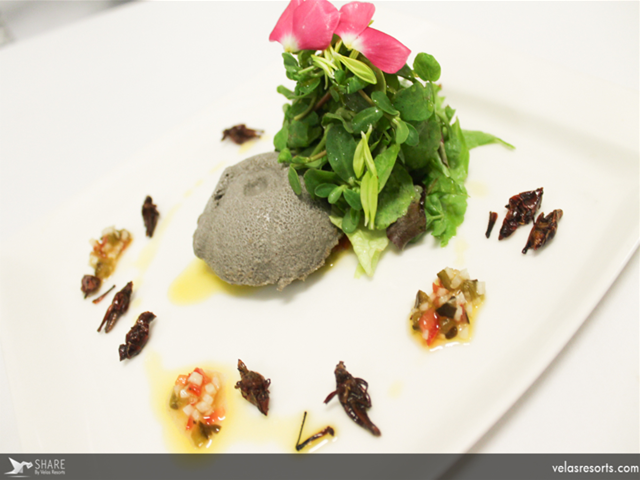 Learn more about Chef Hotter and the Grand Velas Riviera Nayarit culinary experience by clicking here.
Bon Appétit!
¿Buscas la versión en español?