A Vegan Wellness Vacation in Puerto Vallarta & Riviera Nayarit
There is a clear trend lately in healthy living and wellness vacations, incorporating exercise and yoga into travel, as well as naturally grown food and whole foods into the daily cuisine.
We can't mention healthy eating without looking at the most recent vegan movement that is gaining more popularity each year. If you're considering a vegan diet or taking a wellness vacation – you're in good company with thousands of other people worldwide!
For decades, Puerto Vallarta and Riviera Nayarit have been favorites for resort destinations in Mexico. And who could resist? Beaches that seem to be plucked right from a postcard, engaging ecotourism activities that fit every pocketbook, as well as thriving arts, sporting and cultural festivals – not to mention the varied and exquisite gastronomy in PV – people who visit find themselves returning year after year.
Food is one of the highlights of every wellness vacation – especially in Mexico as Mexican food is considered one of the best in the world – even named a UNESCO Intangible Cultural Heritage of Humanity!
In Puerto Vallarta, having a vegan diet and on vacation does not have to be in contrary to enjoying a wide variety of delicious Mexican food and remarkable dining experiences. There are numerous options for travelers who enjoy a health and wellness lifestyle, whether that is a vegan diet, organic and/or vegetarian.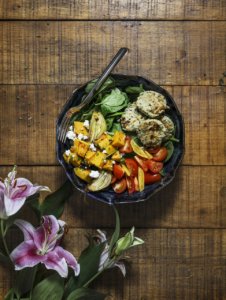 Let's start by commenting on the vast number of restaurants in Puerto Vallarta and Riviera Nayarit. They're some of the top cities in the country for self-proclaimed foodies, so you can be sure that you'll find vegan food and vegetarian options in many of the restaurants.
Puerto Vallarta is also famous for hosting world-class gastronomic festivals featuring all types of food including vegan food, which is becoming more recognized by chefs form all over the world who bring their talent to create exquisite healthy food options for all types of tastes.
Of course, healthy eating and wellness vacations appeals to the affluent and luxury market as well, so it's no surprise that we're seeing more of the exclusive luxury resorts picking up the vegan trend and integrating vegan food into their gastronomic offer.
Grand Velas Riviera Nayarit, the #1 All-Inclusive luxury resort in Nuevo Vallarta, has given special attention to their gourmet vegan food. The chefs at Grand Velas have crafted flavorful dishes with novel ingredients that are sure to please the palate of every guest.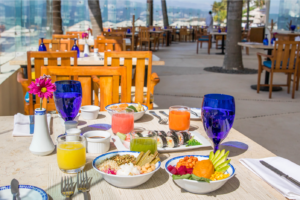 One of the most recent additions to the vegan cuisine at Grand Velas is a sushi dish created by renowned health coach and yoga instructor, Nikki Sharp. Nikki is a frequent guest speaker, flying down to the Wellnessing Retreats from Las Angeles each year.
What are you waiting for? There's a world of delicious vegan flavors to discover! Come to the gorgeous Mexican Pacific — we'll be waiting for you with open arms!