A Taste of Puerto Vallarta
Do you feel like trying a bit of Puerto Vallarta at your next meal, but you don't have the time to travel? There are not many dishes that truly express the flavors of Puerto Vallarta quite like a crispy tostada topped in a fresh, juicy ceviche.


What is ceviche?
If you haven't had fresh ceviche, we highly recommend it – it's a favorite dish among the Puerto Vallarta locals. It's also a Mexican tradition that you can't pass up. Ceviche consists of fresh-caught seafood (anything from shrimp to tuna or mackerel, among others), mixed with fresh veggies like cucumber, onion, tomato, cilantro, or even a sweet mango to add a twist, then bathed in citrus juice (most commonly lime juice but it can be any type of citrus or even a mix of several).
How to eat ceviche?
Well – anyway you want! If you want to look like a true local, add a thin layer of mayonnaise over a baked tostada, spoon the ceviche over the top, add a squeeze of lime juice, a few slices of avocado and maybe some Huichol sauce if you like a kick. Raise your tostada and indulge! No utensils necessary.
Our friends at Velas Vallarta shared a delicious ceviche recipe that you can make at home to delight your friends and family with a taste of Puerto Vallarta whenever you need it.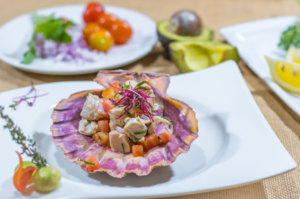 Fish Ceviche Recipe
Ingredients:
800 g of fish fillet in cubes of one centimeter

¾ cup of lemon juice

1 white onion or purple julienne cut

3 thinly sliced ??medium tomatoes

1 chile serrano finely chopped

1 sprig of finely chopped cilantro

1 tbsp of salt

1 pinch of pepper

2 jalapeño peppers in vinegar

1 tbsp of jalapeño chili vinegar
Recipe Preparation:
In a bowl, combine the fish, onions, half a teaspoon of salt, a pinch of pepper and lemon juice. Let the mixture stand in the refrigerator for 30 minutes.
Remove from the refrigerator, mix again and add a little more salt to taste.
Add cilantro, tomato, serrano chile, jalapeno chili and vinegar to the mixture and combine the ingredients. Let stand a few minutes to fuse the flavors.
Serve with ketchup, soy sauce, Huichol sauce, mayonnaise and toast or crackers.
¡Listo! It's that easy to prepare a homemade Vallarta styled ceviche!
Would you like to have your ceviche by the ocean? Stay at the gorgeous Velas Vallarta on your next trip to Puerto Vallarta, where their award-winning chefs await you with a new delight every week. Take your palate on a tasty journey around Mexico with over 31 dishes inspired by the culinary traditions of Mexico. These include the tatemada meat of Aguascalientes, tlayudas of Oaxaca, Puebla chile in walnut sauce and the Ceviche of Baja California Sur.
¡Provecho!  (That means – Enjoy!)