Coconut Love!
Experience the Incredible benefits of the Coconut in an original festival in Puerto Vallarta
Coconut is one of the most loved fruits (yes, fruit!) in the world. Made even more spectacular when it's enjoyed on a sun-drenched beach in paradise. But even when you can't relax on the shore lines, the freshness and versatility of coconuts make it a perfect ingredient for a variety of drinks, snacks and dishes for kids and adults alike.
In addition to being a tasty and healthy snack, coconuts provide multiple health benefits. Did you know that eating coconuts can help naturally reduce your cholesterol, it also delivers a large amount of fiber, as well as hydrating electrolytes that are essential for body functioning. Coconuts are also power packed with vitamins and minerals such as calcium, iron and potassium.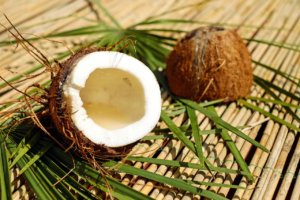 If you want to simply taste the sweet water from within, Coconut water is one of the most hydrating drinks that you can buy. The water has an abundance of vitamins, minerals, enzymes, phytonutrients and antioxidants. Incorporating coconut water into your daily drinks is highly beneficial for your health. High performance athletes choose coconut water as their drink of choice for rehydrating after a great workout.
Another product derived from this tropical fruit is coconut oil. Not only for use in the kitchen, coconut oil is wonderful for beauty treatments. It's an excellent moisturizer for skin and hair due to the amount of vitamin E it contains. Coconut oil is also a powerful antioxidant that takes care of the skin, keeping it young and luminous.
The coconut is so incredibly good, that there is a festival dedicated simply to this fruit in Puerto Vallarta.
That's right, in May in Velas Vallarta, the all-inclusive resort will offer its guests the best that this delicious fruit has to offer. From refreshing drinks such as coconut and pineapple margaritas, coconut horchata water and coconut lemonade mocktails, to perfect snacks to eat on the beach, such as the coconut ice cream sandwiches and the famous shrimp and coconut ceviche.
To enjoy a complete gastronomic experience, the award-winning resort will also be featuring an exquisite coconut tasting menu where each dish incorporates coconut as the main ingredient.
During this Coconut Festival, take advantage of the numerous spa benefits of coconuts at the Velas Vallarta Spa where you can enjoy special coconut-based treatments. Get ready to pamper yourself with smoother, more radiant skin!
If you're planning a trip to Puerto Vallarta, why not take your trip this May to enjoy the benefits of coconut water, coconut oil and all the exquisite gastronomic facets of this fruit in this unique and delicious Velas Vallarta Coconut Festival.