The Humpback Whales return to Banderas Bay
By Veronica Toro
Whale watching is an incredible event that falls during the months of December to March on the beaches of the Bay of Banderas. Viewers can observe these cetaceous creatures during their annual migration to give birth to their young. They travel from places like the coasts of Alaska and Canada, as the baby whales are too weak to survive the strong, freezing ocean currents of the North.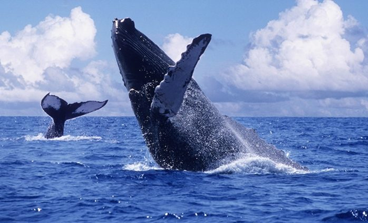 Most specimens that visit our country come from North America; the Mexican Pacific Ocean is one of the species' preferred destinations for their migration and reproduction. Males put on quite a show to impress females, by breaching, leaping, splashing and singing long soft songs during the courting process. Females are then responsible for teaching their offspring to breathe, swim, jump, eat and survive in general.
These marine mammals weigh around 30 tons and create a unique spectacle, as it is no small feat for one to leap from the depths of the sea to break the surface. The sight can be seen from the beach or by taking a boat tour.
The majority of local whale watching tours lasts from two to four hours, and the security of the humpback whales is guaranteed by the Official Regulations of Mexico. They are a much-protected species; touching or feeding them is prohibited for the safety of both the whales and those who come to enjoy the show.
Up to 4,500 whales arrive in Mexico each season; they reproduce in places like Los Cabos, Isla Isabel, the Bay of Banderas, Islas Marías, the Gulf of California, Islas Revillagigedo and Colima.